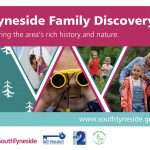 Looking for ideas for your family over the summer holidays?
Check out South Tyneside's Family Discovery Trails. Fun walks exploring the area's rich history and nature, featuring maps and family fun activities.
Information about access to free meals through Key2Life, for families that would benefit from a free picnic, is also available on the below website.
Don't forget your phone or camera to take pics of your walk and post them to [email protected]
#LoveSouthTyneside